There are a few miscellaneous items to understand when walking around the outside of your motorhome.
Gas Bottle Locker

To open and close the outside gas locker, you need to push the locker in and then turn the key. Fully open the gas bottle valve when using gas and fully close for travel. There is no need to turn the isolation valve on or off (yellow handle) - just leave it open.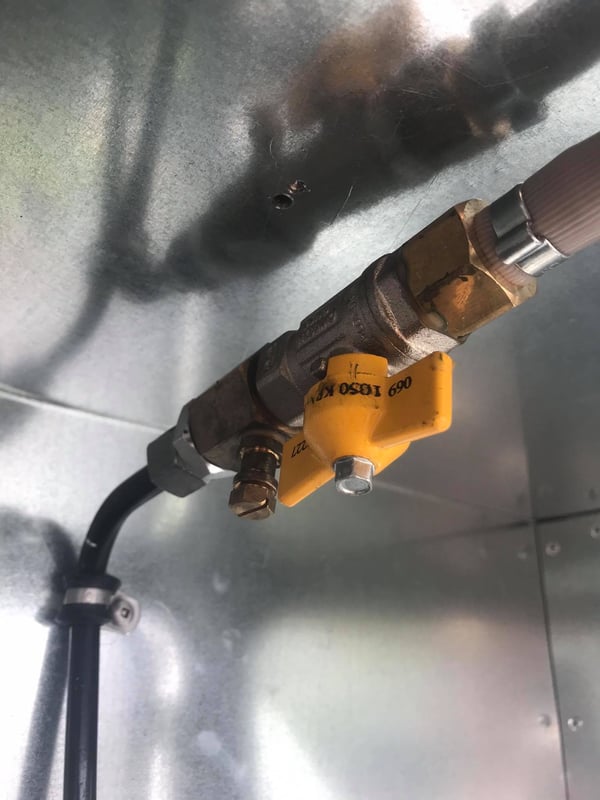 Contents of your boot/locker
In your boot or locker, there is the following:
Fully fitted carpet
Front window blind (this wraps around the outside of your window)
Ladder/s for your drop bed/s
A spare tyre and a black plastic box which contains the tools for changing your tyre
Awning winder if you have an awning fitted
Winder for your stabilising legs
A plastic container containing a brown hose which is for your greywater
Outside shower hose
Orange gas lead
Solar panel and roof

Ensure you keep your roof and solar panels clean. Please do not stand on the roof so use a ladder or a building to do this. Just use a soft brush and soapy water – do not use products such as "Wet n Forget" as they will cause damage over time.

If you do not have facilities to clean your roof, you can make a booking at our TrailLite Service Centre and we can do this for you.
If you are having trouble with your solar panels please click here for solar panel troubleshooting
Parts
Our TrailLite Service Centre carries a range of parts for all our motorhomes, in the hope, that if there are any mishaps along the way – we can help get you sorted and back on the road.
If you are ever in need of a specific part that we do not carry in stock, we may need to source it from overseas. This can take up to 3 months in most cases, as we move parts via sea freight
Please note that if a part was urgent and meant you could not use your motorhome/caravan there are other options we can look into that might carry an additional cost
Our parts coordinator can be contacted directly at: devon@traillite.co.nz
If you can, it is best to e-mail a photo to ensure the correct part/s are ordered and dispatched.
Issues/Concerns

We have checked and prepared your motorhome to the highest standard prior to your delivery. Once your motorhome or caravan is on the road there can sometimes be a few teething issues (it's essentially a moving house). This is perfectly normal and it is important you understand we will rectify any issues you may have right away. We can do this at our Traillite Service Centre, or at one of our many Service Agents throughout the country. Simply call or email us and we'll be here to support you 100%.
Next Lesson:
Click here to learn how to connect your motorhome to mains power