This article and videos explain how to use your water heater, isolation switch and main power switch
The following isolation switches are all located in the upper kitchen cupboard. Above is the main switch and below are the white isolation switches:

• External PowerPoint (if you have one)
• Charge (your external electric socket to connect to mains)
• Fridge
• Hot Water Cylinder

These are mainly used for tradespeople servicing your appliances. Please don't leave these on (unless one is damaged or there is danger with having a certain appliance live).
Instructions for Main, Inverter and Isolation switch
Instructions for Invertor
If your motorhome has an Inverter you will see a black on/off switch for the Inverter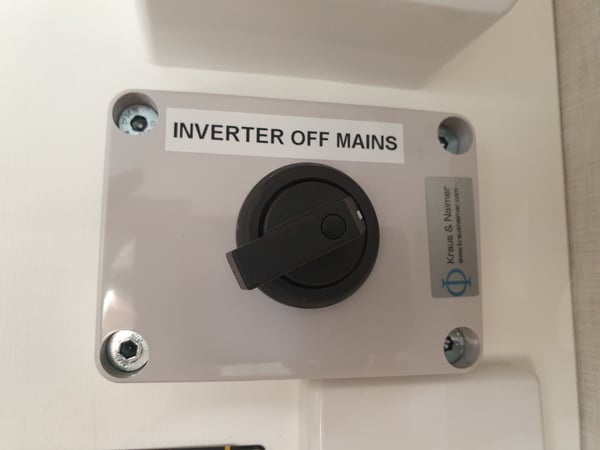 Use this dial to turn the power supply system from MAINS to OFF to INVERTER.

Only have the power supply system dial only on INVERTER if you need to draw 230V when you are not plugged into mains.

As soon as you are done, change the system back onto MAINS. This avoids drawing power from your batteries instead of mains when you are next plugged in.
Instructions for water heater

Right above your Rangehood, you will see a black square panel. This is your water heater.

Whale Gas/Electric Water Heater




Nautilus Califont Gas Water Heater
The Nautilus is a califont water heater that will heat up your water as soon as you switch it on.

The ON and OFF button is located on the Finscan (HOTWATER)

The Nautilus control panel sits against your Rangehood in the upper kitchen cupboard, it has only basic functions like switching from Celsius to Fahrenheit and changing the temperature setting with the UP and DOWN buttons.

The temperature is set to 50 Degree Celsius by default.

The Nautilus runs on gas only, so please make sure your gas bottles are open. When you don't need hot water it is recommended you turn the heater off.
Next Lesson:
Click here to learn more about your kitchen oven and gas stovetop