This article shows you how to remove the 5th seatbelt in the Fusion motorhome registered pre June 2021
NZTA have advised that the 5th seatbelt in the 4 Berth Fusion 373/379 and 367 models is no longer permitted in order to pass a COF. It has been deemed unsafe as a traveling seat.
To ensure that you motorhome complies with these new NZTA regulations. Please remove the 5th seatbelt. This will need to be removed prior to your next COF and should not be used as a traveling seat.
The belt in question is pictured below: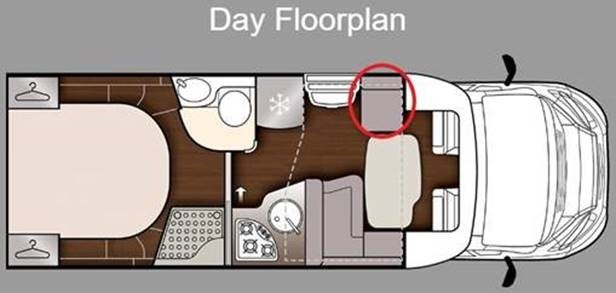 Options to ensure you pass your next COF:
Remove the seatbelt yourself it should take approx 15-30mins to complete (instructions below)
Take to any mechanic or similar, show them the instructions and have them complete on your behalf
Return to TrailLite, make a booking with our Service Centre and we will remove it for you
Instructions to remove:
You will need a socket set and a screw driver to complete the following:
Remove the 2x screw covers & screws that hold the upholstered cover in the corner over the seat belt & remove the upholstered cover.
Remove each of the black plastic caps off of the bolt heads on the 3 seat belt mounts so you can unbolt the 3 points.


Unbolt the final seat belt mount that is at the bottom under the seat that holds the seat belt coil.

Rearrange seat and upholstery
Please note that you should NEVER reinstall this seatbelt unless you have received heavy vehicle certification from a qualified vehicle engineer that the seatbelt is safe to use and it has passed a COF as a 5 berth motorhome. It would be illegal and unsafe to reinstall the seatbelt after passing a COF.